by Nina Vogel & Pam Maley
This story was originally written for and published by the Equestrian Almanac in their Spring '17 issue. Learn more at equestrianalmanac.com
From Grand Prix to Pony Finals,barrel turns to hunter lines, and seasoned veterans to green youngsters, 2016 marked a year of success for many equestrians. Equestrian Almanac selected four stars from the year who stood out in their fields by having a strong partnerhship and earning top honors. Athletic and fiercely competitive, these four achievers are piloted by dedicated horsemen and women.The bonds formed by these duos are inspiring, adding another layer of success beyond ribbons. Equestrian Almanac is honored to share the stories of these four combinations, and tip our hats to their achievements.
Puissance R
& Jenny Karazissis
Puissance R proved her cross-country trip from Calabasas, CA to Lexington, KY worthwhile in August of 2016 when she and Jenny Karazissis secured the lead in the first round of the prestigious USHJA Pre-Green Incentive Championship. With over a hundred entries, she ultimately claimed reserve champion overall. The duo returned home to earn top ribbons in numerous USHJA National Derbies and Hunter Prix all over Southern California throughout the remainder of the year.
Lisa Hankin, her current owner, was searching for a horse that reminded her of one she had in the past, when she discovered the then five-year-old chestnut mare. In November of 2014, Hankin and her horses relocated from New York to California, and a couple of months later, Karazissis began working with 'Pui'. The 2015 HITS Desert Circuit was their first time competing together.
"The first time I rode her, [my husband] Kost set a gymnastic line and I did it once and got goosebumps. I thought, 'Wow, this horse is going to be fantastic,'" Karazisiss said. "It was like love at first feel – we'll put it that way – because it felt amazing."
The relationship grew and flourished rapidly, as Pui took the Pre-Green hunter ring by storm. The horse finished as the top mare, top American-bred horse and second overall horse in the 2016 USHJA Pre-Green Incentive Program Year-End Standings, which calculated total money won by enrolled horses during the year of competition. Pui also finished as champion of the 3'3″ Pre-Green Hunters and reserve champion of the 3'3" Performance Hunters in the 2016 American Hanoverian Society National Hunter/Jumper Awards.
Karazissis got to know the mare well after just a couple of horse shows because of the consistency of her temperament. Other than the occasional gymnastic at home, Karazissis mostly practices flatwork with Pui, since the pair's busy show schedule makes for plenty of jumps on the road. She is a brave competitor and her behavior is quite consistent, so before heading to the ring, all Karazissis needs to guage is Pui's mood. A little extra energy may require a little extra warm-up, for example.
Over the course of the two years that Karazissis has been showing Pui, the two have not only developed an impressive show record but a strong partnership."We just really trust each other," Karazissis said. "I feel like she knows when it's important and she really turns it on and tries hard for me."
Pui is a sweetheart on the ground. Karazissis noted that she is not at all the typical chestnut mare. She has grown close to her ground man as well as her rider. As the man who sets the jumps in the warm-up ring and greets her with affectionate face rubs when she exits the back gate, Kost Karazissis has also gained the horse's trust. Karazissis remembered a time when she and Pui set out on the long walk from the barns to the show ring at the Kentucky Horse Park and Kost was trailing behind them. The mare refused to go on until Kost was walking either beside or in front of her.
"It was like she wanted to make sure he was there with her," Karazissis recalled.
Karazissis and Pui are venturing into both the Green Hunter 3'6″ ring and the International Hunter Derby ring this year. They have plans of traveling more in 2017, seeking to keep the wins coming along the way.
---
Buddy
& Destri Devenport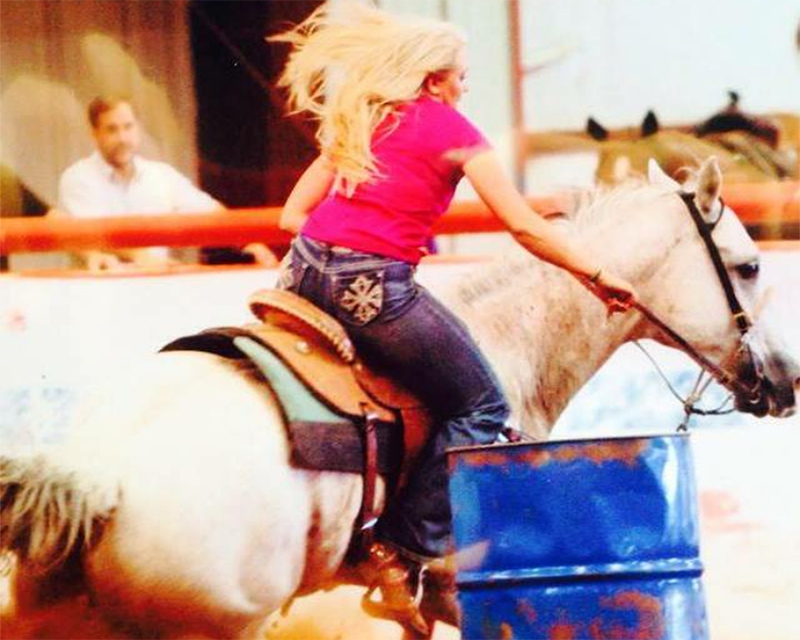 Destri Devenport first set eyes on Buddy when she was in high school. Eoghan Young was competing on him, and Devenport fell in love. "He had the coolest style of turning," she confides, "and he was obviously very fast."
When the Young family was ready to part with Buddy, they sent him to Devenport to sell. "I spent a lot of time just learning who he was, and how to ride him and show him at his best, to find a good home for him."
"In my training program, I don't have 'one way' of doing things," she explains. "I like to ride the horse and spend time with him/her, learn what makes the horse most comfortable when working, and build his/her confidence. As long as the horse is doing his/her job safely, and has the speed, I will teach the rest. No two horses are the same, so the training method can't be the same."
"Buddy was trained by an amazing woman from California, Sue Rogers. Since I didn't train him, learning about him and his way of doing things, was important. Within a short time Buddy and I clicked so well; it just felt like we began bonding instantly, and we had amazing timing with one another."
"Buddy is truly a special horse, partly because he's a quirky one. He hates clippers, hates back boots, hates being in a stall that keeps him from seeing another horse, and he hates being around aggressive people. We clicked because I understood and respected his likes and dislikes, and as long as he respected me, I spoiled him shamelessly. He had his routine, and that's how things were going to be done – period. I knew every quirk and button, and spent a lot of time learning what made him comfortable and happy."
Since Buddy had mostly competed in California and Arizona, Devenport ran him in some classes in Texas to give the horse more exposure, and they earned a spot at the 2016 National Barrel Horse Association (NBHA) finals in Georgia. The first round qualifier, with over 1,000 entries, was divided into two rounds. The top 20 in each of those rounds qualified for the short round. Devenport remembers the thrill of walking through the Grand Entry with the finalists as their names were announced. There was a buzz about who was going to be the winner, and she heard someone say, "Y'all better watch Destri and Buddy!"
"When I went into the arena, I had the most peaceful feeling with Buddy, and was so thankful for the moment," she recalls. "After we made our run, we were in the lead, and I remember calling my mom and dad to tell them. But there were some tough horses still to run. When we won, it was an amazingly humbling moment for me. We had outrun the best horses in the world!"
"My relationship with Buddy is something I have never experienced in my life." But it was Devenport's job to sell him, and after they won the World Championship, he had a buyer. "It was the hardest day I had experienced," she says sadly. "I knew and loved every detail about Buddy, even his quirks. He was a gorgeous gray color. But now he belongs to an amazing lady who is chasing her dreams on him. Buddy and I will always share a bond that is so hard to explain. He is a sweetheart and an incredible athlete, and I'm forever thankful for the ride he gave me."
---
Lordan
& Nayel Nassar
Just over six years ago, a dynamic duo that is now a formidable presence in the international world of show jumping came into being. Nayel Nassar and Lordan joined forces in December 2010 when the newly gelded Hanoverian was just six years old. Their bond and ensuing success as a team has grown exponentially since then.
Competing all over North America, in California, New York and Nevada in the United States; Langley and Calgary in Canada; and Valle de Bravo in Mexico; Lordan and Nassar have made their mark on the continent. In 2016, they kicked off the year with a win in the Longines FEI World Cup™ Jumping qualifier at the HITS Desert Circuit in Thermal, CA. Over the summer they won two Grand Prix at Thunderbird Show Park in Langley. Spending some time in the east, they finished sixth in the Longines FEI World Cup™ Jumping qualifier in Old Salem, NY, and fifth in the Saugerties $1 Million Grand Prix at HITS-on-the-Hudson. At the CSI5* LA Masters, Lordan and Nassar secured several top honors, including a red ribbon in the Grand Prix. With top finishes in the Longines FEI World Cup™ Jumping qualifiers in Del Mar, Las Vegas and Palm Beach, Nassar earned ample points in the rankings to claim the lead in Longines FEI World Cup™ Jumping Standings for the North American Western Sub-League in early 2017.
Lordan's ability has always been clear to Nassar. Though quite green back in 2010, Lordan was unwavering in his athleticism and talent. Nassar recalled jumping at least 30 jumps the first day trying the horse and that he was perfectly game the next day even after all that work.
"He definitely gave me an incredible feeling over the jumps, even in a tiny indoor," Nassar said. "The feeling was quite good, and I watched the video, too. It felt good and it looked even better."
Nassar keeps the training simple for his trusty steed. He is careful not to over face him and instead focuses on putting him in a position to succeed. Flatwork is the emphasis at home. Nassar uses plain loose ring snaffles without excess aids on his horses, trying to turn their weaknesses into strengths, and keep them happy.
"For the most part I like to educate them and have them accept a good education on the flat," Nassar said, referencing his German riding background with various trainers who specialized in flatwork.
The two share an unbreakable bond. Lordan was quite spooky when Nassar first got him, but now they trust each other implicitly.
"He would jump anything for me," said Nassar, the only rider to jump Lordan since he was six.
Though a messy eater – Nassar described Lordan filling his mouth with mash only to spread it all over the walls of his stall – Lordan is a careful horse. Nassar noted that although the horse is kind and takes care of him, he is acutely aware.
"He's smart and aware of his surroundings. He thinks before he acts. He doesn't react – he thinks first," Nassar said.
The relationship is a two-way street. Nassar relies on Lordan to be his partner against some of the fiercest competition in the world, but in return, Lordan demands Nassar's full attention, objecting to phone calls and other distractions.
"If I'm on the phone for even just two or three minutes, he always finds something to spook at." Nassar explained. "Even on the ground, if I'm on my phone he seems to get unruly. It's like if my total focus is not on him, he doesn't like it."
The duo certainly cleaned up in 2016. And this year is already off to a successful start with a win in the $216,000 Longines FEI World Cup™ Jumping qualifier at the Palm Beach Masters. May 2017 continue to bring in the blues.
---
Royal Moment
& Evelyn Walker
Evelyn Walker first laid eyes on Royal Moment at the Devon Horse Show in late May of 2016. The nine-year-old girl and the seven-year-old pony (now eight) partnered up and proceeded to create a successful bond.
Walker and Royal Moment, known as "Owen" around the barn, took on the Zone 10 Pony Hunter Challenge in June, earning titles of Small Pony Hunter Champion and Overall Reserve Grand Champion with over fences scores of up to 88. Just two months later, the duo ventured, along with hundreds of other ponies from around the nation, to the highly competitive US Pony Finals in Lexington, Kentucky. Walker led Owen to the win in the model class of the Small Regular Pony Hunter division and rode him to a third place finish in the under saddle. Two of the three judging panels gave the pair under saddle scores in the 90s. As the young pilot of a young pony, Walker cherished her success at the Finals as an important memory in her blossoming relationship with Owen.
"I couldn't believe it. I was so happy!" Walker recalled with joy.
She and Owen are well acquainted with success, but they still work on perfecting their partnership every day. The Welsh Pony gelding thinks he is a stallion at times, according to Walker, though he is all in all a gentleman who always has her back.
"Owen and I are buddies. We continuously get to know each other better," Walker said. "There are days that are better than others, but we grow each day."
Although Walker has proven her nerves of steel, riding among such stiff competition can place heavy pressure on the shoulders of a youngster like Walker. Trainer Michael Savage has been an essential part of Walker's development on the show scene. He devised a plan some time ago to aid Walker in keeping track of her courses and plans. She arrives to the show at sunrise to sketch the day's courses on a dry erase board, walking them after to learn them visually.
"Because Evelyn is so young, sometimes learning all the courses required for pony hunters over fences can be overwhelming," Walker's mother Stephanie explained. "Michael's plan really helps a nervous little girl feel prepared, and it has taught her to take responsibility for her own successes."
Indeed, Walker feels grateful for the guidance Savage has given her.
"Michael is the best trainer ever," she boasted. "He always helps me find a way through something hard."
Walker and Owen plan to continue competing in the Small Pony Hunter division this year. As their bond strengthens, so will their partnership as they close on one year of working together this May. A key learning experience for both, the small bay gelding has made an impression on Walker.
"One day my mom asked me who my favorite pony was and I said, 'They're all my favorite. They're like my children.' And that's the truth," Walker explained. "But Owen will always have a special place in my heart."
Visit equestrianalmanac.com to find more engaging content from this California publication.