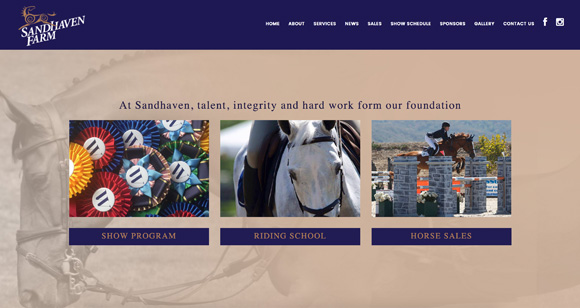 FOR IMMEDIATE RELEASE
March 14, 2017 – Woodside, CA – Sandhaven Farm is proud to announce the launch of its revamped website that now features the barn's story, as well as up-to-date information about the riding program and shows. The Sandhaven team is also excited to welcome several new clients.
Designed to provide a user-friendly experience, the website features services, horse sales, photo galleries and team biographies, namely those of Sandhaven owners Rachel and Jeff Fields. The site and social media will share Sandhaven's news as well as links to articles from well-known media outlets including Horse & Style, ProEquest and Equestrian Almanac.
Sandhaven is proud to highlight their sponsors on the website. Current sponsors include Braly Woodworking, Bruno Delgrange, LA Saddlery, Paddock Cakes, RevitaVet, Saddle Network, Samshield, Sound Hoof Care, and Tomari Cellars. The Fields will also continue to work closely with Stal Hendrix, based in the Netherlands, to provide riders and owners with top show horses and prospects.
Horse show results and achievements for all Sandhaven clients and horses will be continually updated on the site throughout the year. Results are sure to be impressive with the addition of several junior and amateurs who recently joined the family of long-time clients.
"We look forward to focusing on the long-term development of our dedicated clients and horses this year as we welcome new customers to our program," Rachel explained. "We will continue to fulfill our vision of instilling hard work and integrity in our students while strengthening the horse and rider bond."
The Fields, along with barn manager Kimberly Carpenter, are proud to welcome Zeadin Skolak, Morgan Garnett, Halland Mckenna, Lexi Burdon, Alexandra Wilson, Megan Shaffer, Capucine Quernet, Sarah Lok, and Caroline Knapp to the Sandhaven family.
The team has enjoyed getting to know each new rider at the Sandhaven facility located at Portola Farms on the San Francisco peninsula. Working to develop customized plans to achieve their goals, they have jumped into the new show season at the HITS Coachella Desert Circuit. The schedule for the remainder of the year can be found on the website.
Visit sandhavenfarm.com. And follow on Facebook and Instagram (@sandhavenfarm).